Conservation and Restoration interventions on the full-length Portrait of Cardinal de Bonald, XIXth century, work of the Collection of the Endowment Fund "Patrimoine et Arts Liturgiques" of Lyon, France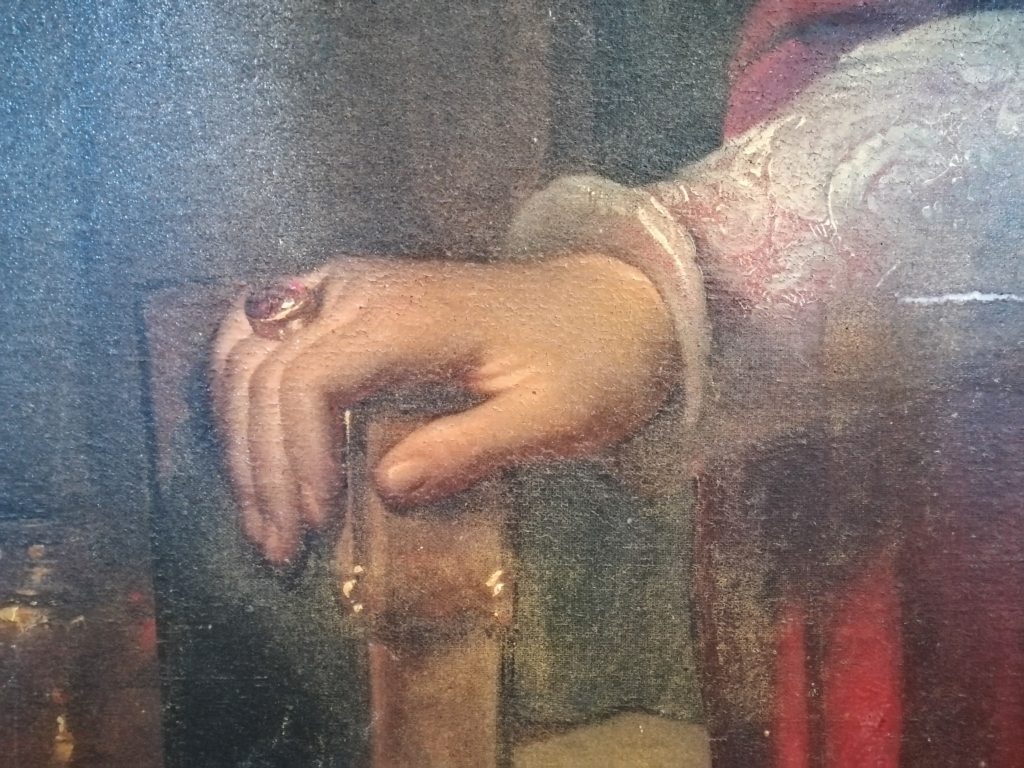 The Muses & A.R.T. Association was asked in 2019 to intervene on a religious painting belonging to the endowment fund "Patrimoine et Arts Liturgiques". It is a full-length portrait of Cardinal de Bonald, Archbishop of Lyon from 1839 to 1870, with the Cathedral of Saint-Jean in Lyon in the background. It is signed Georges Dupré and dated 1844.
This large-format work, which was to be destroyed, was recovered in extremis by the Endowment Fund and entrusted to the association, then under development at the beginning of 2019, in order to carry out conservation-restoration operations essential to its preservation.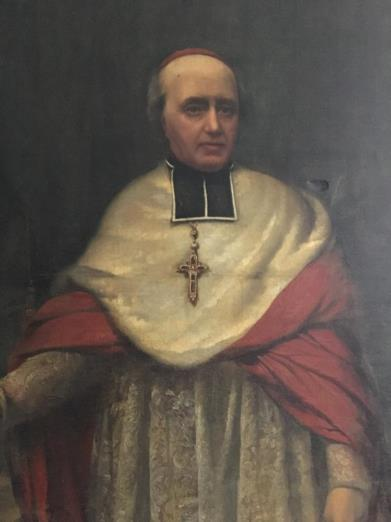 Item : Oil on canvas
Topic : Full-length portrait
Title : The Cardinal of Bonald
Signature : Georges Dupré
Period : 19th century (signed 1844)
Dimensions : 231cm x 136cm
Nature of the support : Linen canvas on wooden stretcher
Nature of the preparation : clayey, porous, red ochre in color
Old restoration : yes
Owner : Endowment Fund "Patrimoine et Arts Liturgiques"
Localized tenting lifts with risk of paint loss
Surface wear of the colored layer
Lacunas
Ten accidental tears of canvas with a total area of 56 cm²
Old non-conforming patchs glued to the back during an old restoration procedure
Non-compliant canvas strip on the seam of 136cm x 5cm
Accumulated dirt on the rear of the canvas and dirt pocket under the stretcher members
Canvas deformations at one angle, caused by the uneven stretcher members
Inpaintings from previous interventions
Oxidized and yellowed varnish ; darkened and clogged pictorial layer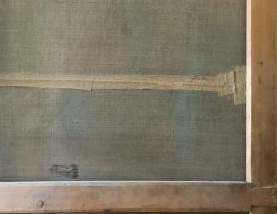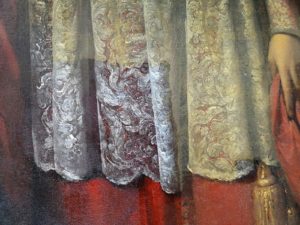 The work, long preserved in poor conditions, required conservatory operations aimed at consolidating the adhesion of the pictorial layer and treating the canvas support and damaged stretcher. The paint that exhibited tenting lifts in many places was consolidated on the canvas using an adhesive not sensitive to hygrometric variations ; the old non-conforming patchs glued to the back of the canvas were removed mechanically and with solvents ; and the multiple tears of the textile were closed and reinforced to restore its unity to the support of the work. Finally, the angle of the stretcher was consolidated by the addition of a piece of wood to flatten the surface receiving the work, and the deformation of the canvas was absorbed.
Meticulous cleaning of oxidized varnish had to follow in order to achieve an acceptable brightness and depth of colors and composition, and to restore a better reading of the subject. The meticulous filling of the lacunas of the pictorial layer was then achieved with fill and retouching colors. The application of a protective final varnish in bomb came to close our interventions.
Started in spring 2019, the restoration of the work was completed in May 2020.
It required 190 hours of work.